World
Elon Musk's son's pain revealed in court documents: 'My first son died in my arms'
Elon Musk, the boss of Tesla and SpaceX, is being named in sad news this time. A U.S. family's lawsuit against Tesla over the safety of cars reveals musk's pain for his first son, who he lost when he was just 10 weeks old and hardly ever talked about
Elon Musk comes to mind a lot of things. Musk, the world's richest man, is frequently in the spotlight with his space race with Jeff Bezos, Tesla, the first brand that comes to mind when it comes to electric cars, cryptocurrency tweets that lead to markets jumping up and down, even his love life.
When you turn all this news upside down, the adjectives that describe Musk are "revolutionary visionary," "competitive business person," "tough manager" and so on.
And who would have thought Musk was a heartbroken father with a high empathy? Probably no one… But some recent court records have raised details that will soften the hearts of even those who find Musk's public image too antipathetic.
18-YEAR-OLD BOY AND FRIEND KILLED IN TESLA CRASH
It all started with a Car Accident in May 2018, Bloomberg News agency reported. On May 8, a car from Tesla's Model S series was travelling at 187 kilometers per hour in Fort Lauderdale, Florida, when the driver lost control and crashed into the wall of a home. The car caught fire. Barrett Riley, 18, who was behind the wheel, and his friend in the passenger seat sadly lost their lives.
Shortly after the accident, a correspondence began between Musk and Barrett's father, James Riley.
"Losing a child is the worst thing that can happen to a person in life," Musk said, expressing his condolences to Riley and expressing regret over the accident and the loss of his son.
Correspondence between Musk and Barrett continued mutually for 6-7 weeks. So much so that Musk said in one of his emails that he had suffered a similar pain:
"I understand you very well. My first son died in my arms. I felt your last heartbeat."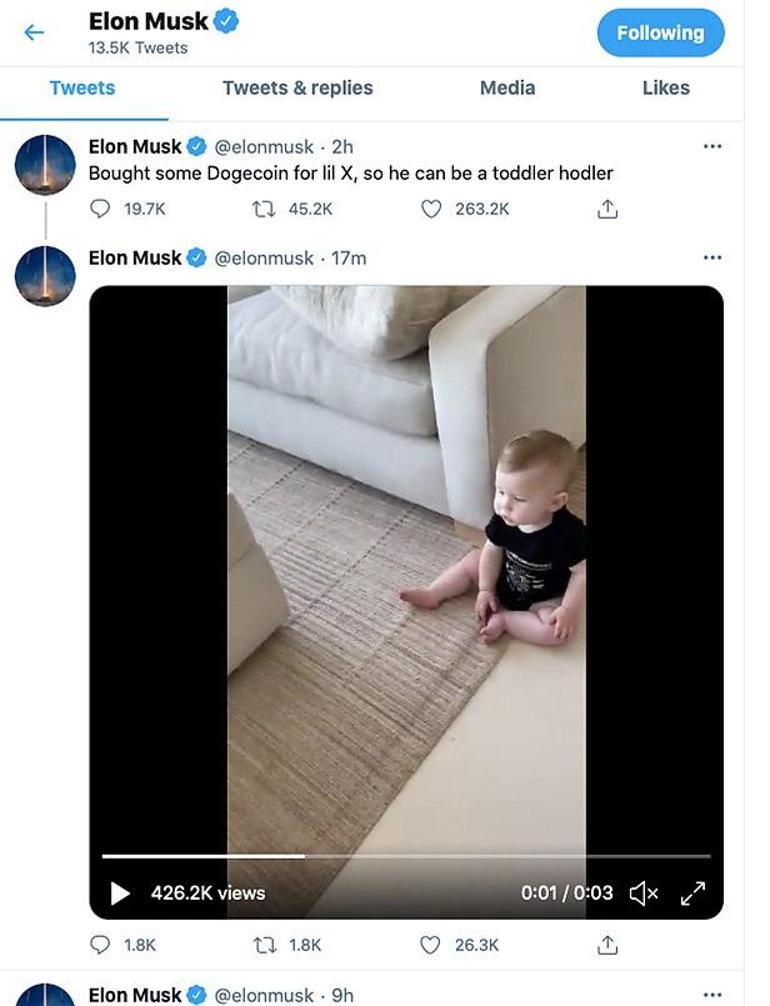 MUSK AND HIS SONS…
Elon Musk, 51, has six children.
Finally, on May 5, 2020, his then-girlfriend Claire Boucher (or more commonly known as musician Grimes) gave birth to X Æ A-Xii Musk.
The youngest Musk, who has caused a big deal because of his name, is already known to the world thanks to his father's occasional Twitter posts. Shortly after giving birth, Musk was a guest on Joe Rogan's podcast, the most discussed name of recent days, and announced that the little one's name had been read X-Ash-A-Twelve.
The mother of Musk's other five children is canadian writer Justine Wilson, his ex-wife whom he married in 2000.
Wilson gave birth to Twins Griffin and Xavier in 2004 and triplets Kai, Saxon and Damian in 2006. According to tabloid media details, both pregnancies were performed through IVF. Following the couple's divorce in 2008, custody of the children was split between their parents.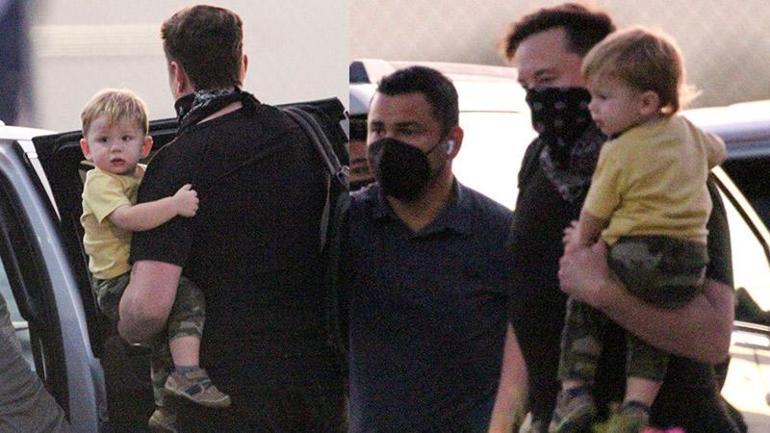 Musk and his son 'X'
NEVADA LOSES ALEXANDER FOR 10 WEEKS
The son Musk mentioned in his email to Riley is Alexander Musk of Nevada. Nevada Alexander was born in 2002. Unfortunately, she died of sudden infant death syndrome when she was just 10 weeks old.
"Elon Musk: Tesla, SpaceX, and the Quest for a Fantastic Future," a biography by ashlee Vance, a former Reporter for the New York Times, that hit shelves in 2017, is one of the rare sources with information about Alexander's death in Nevada.
As the book explains, when Musk and Wilson went to wake Alexander, Nevada, they noticed that the baby was not breathing. Nevada Alexander, who spent three days fighting for his life on a ventilator, was unfortunately unable to be saved.
Musk has never commented on his sons other than X Æ A-Xii. Apart from a social media post by her ex Amber Heard and a few shots that paparazzi managed to capture, there's not much information about the kids.
Nevada Alexander's death is also something Musk has barely mentioned. Therefore, the fact that he expressed his own pain in an email to a grieving father was considered very unusual for Musk.
SAFETY MEASURE FOR TESLA VEHICLES IS IN PLACE FOR BARRETT
Meanwhile, the correspondence between Riley and Musk inspired Tesla to introduce a safety measure for cars.
In the May 29 email, Musk told Riley, "At Tesla, we are doing everything we can to improve safety conditions. My friends, my family, me, we all drive Teslas. Even if they didn't do anything about it, I would do everything I could," he wrote.
Two days later, Riley responded to Musk, saying, "I've never expected recognition in my life, but I'm very happy to see that the loss of Barrett and Edgar has helped improve the safety of others," and Tesla was demanding an update that would allow the maximum speed of cars to be controlled by midwives.
Indeed, an update to the software of Tesla cars in June 2018 introduced the option for drivers to pin the maximum speed of the vehicle to a point between 50 and 90 miles per hour (80 to 145 kilometers) through the smartphone app or user interface entered with a four-digit PIN code. Added a statement to the vehicles' user manual stating that this feature is in tribute to barrett riley's memory.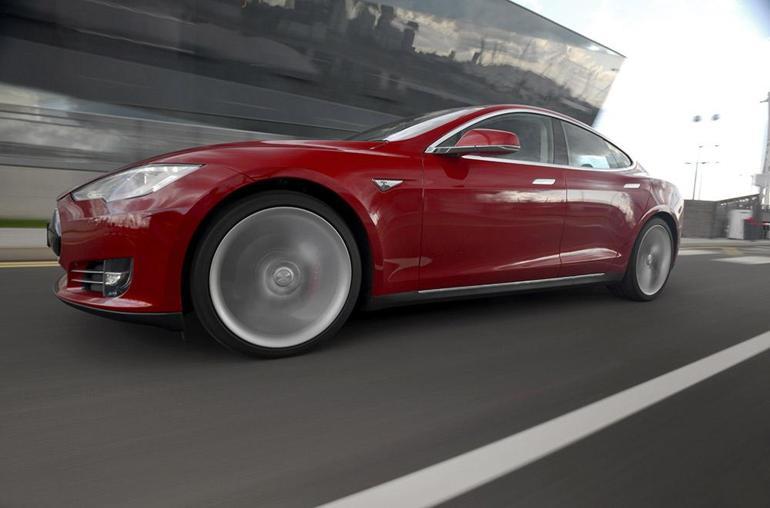 PARENTS OF BOTH CHILDREN SUE TESLA
Correspondence between Musk and Riley entered into the evidence file of barrett's friend Edgar Monserratt's negligent death lawsuit against Tesla in connection with the crash. The lawyer in the case asked the court's judge in charge to force Musk to testify about Tesla's autopilot-assisted driving capability.
James Riley, meanwhile, sued Tesla about two years after the correspondence.
The lithium-ion batteries in the Tesla car caused an "uncontrollable and fatal fire" after the collision, james riley's complaint to Florida Federal Court said, adding that "Barrett Riley was killed by a battery fire, not an accident."
The complaint also said that two months before the crash, Riley asked Tesla to install a speed limiter on the vehicle for his son's safety, but that limiter was later removed from the vehicle by the Tesla service without Riley's permission.
"Without Tesla's negligence, the speed limiter would have prevented the accident and Barrett Riley would be alive today," the complaint said.
Tesla lawyers responded to the complaint, dismissing the claim that the battery's design was flawed. The company also stressed that Barrett Riley was the one who took the vehicle to the Tesla service and removed the speed limiter, saying, "There is a problem with acceleration performance."
Tesla did not respond to questions about the lawsuit. Bloomberg recalled that hearings in the "Riley v. Tesla Inc." case will begin later this year.