The pregnant elephant, who had come to the settlement to find food in the Indian state of Kerala, was killed by unidentified people by feeding her a pineapple filled with gunpowder.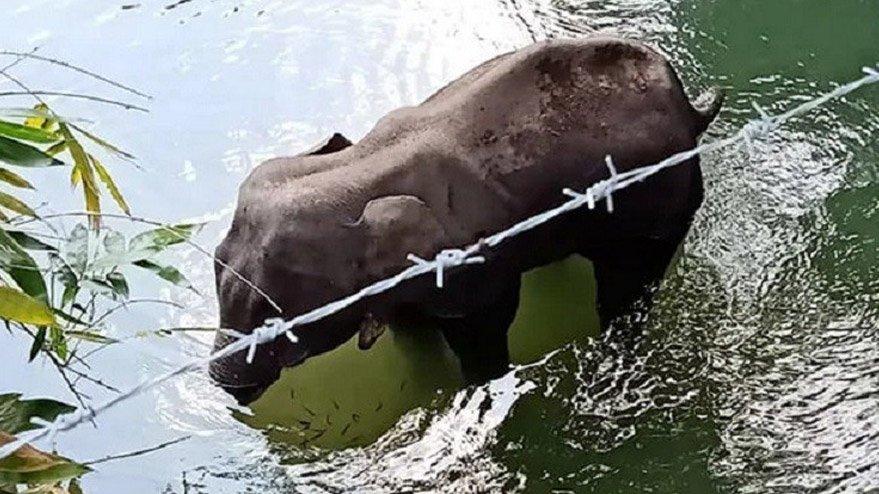 In Malappuram, Kerala, India, on May 27 last year, an elephant landed in a settlement to find bait from the forest.
As the elephant began to roam the area, pineapple was given by people who have not yet been identified.
The elephant immediately began to eat the pineapple. But the gunpowder that had already been put in the pineappled suddenly exploded in the elephant's mouth. As his mouth began to burn, the elephant landed in the river next door.
Following the tip-off, teams from India's Ministry of Forestry arrived at the scene and began work to save the elephant.
Crews tried to save the damaged elephant by lowering two elephants into the river. However, the elephant could not be removed from its location. The elephant, which ate the pineapple filled with gunpowder given to the people, perished in the middle of the river.
"HE DIDN'T HURT US, BUT WE KILLED HIM"
It turned out that the elephant that perished was pregnant after it died. Mohan Krishnan, forest official in the city of Malappuram, posted on his social media account yesterday:
* The dead elephant entered the village for bait. She was pregnant. She was due to give birth in about 18-20 months. But while he was walking down the country road, someone gave him a pineapply.
* The pregnant elephant may have believed in humans. He started eating the pineapple he was given. But shortly afterwards, with the explosion in the elephant's mouth, the elephant began to shed tears. Maybe that tear wasn't for him. What was in it was for that baby elephant.
* It exploded in the elephant's mouth so much that its tongue and most of its mouth burned. The elephant roamed the streets. He didn't hurt us. But we killed him.
* He landed in the Velia River next to him to relax. We tried so hard, but we couldn't save him.
* At around 16.00 on May 27, the pregnant elephant took her last breath due to people's inhumenity behavior. The last time he died, we buried him in a forest next to him.
Meanwhile, the incident in India has provoked a backlash in the country. Animal lovers and citizens condemned the incident and demanded that the person who caused the elephant's death be found and arrested. (UAV)